In our fast-paced technologically-driven world, we're more focused on visual media than ever before. That means we're also a visually oriented economy with limited time on our hands and a short attention span to go with all of that. There's no wonder video content formats have taken over, as we attempt to do and be more in our every day. As such, video production has become one of the most effective marketing tools for business across a variety of sectors and industries.
Creating engaging and interactive video content that's tailored to your individual business needs leads to an increased online brand presence, in addition to optimising SEO and social media exposure.
Other benefits of corporate videos include faster sales and greater conversions, due to the easily digestible and shareable nature of promotional videos as a form of media.
Take a look through your social feeds and you'll find plenty of business ads for new product releases, 'behind the scenes video and other compelling visual content. In an endless capacity, video productions offer so many ways to reach people who otherwise would have gone unengaged.
First thing's first: What is corporate video used for?
Corporate video production can be used for a range of purposes, depending on the type of message being expressed and the needs of the individual client. This kind of solution can even be for training videos to use internally, promoting the culture of a company to those who a brand may be looking to hire. In more ways than one, these video production services can make the perfect first impression when a business is trying to produce a positive image for the overall company.
Straight up, a corporate video is one that is produced by a business, institution or organisation. While often used externally for marketing purposes, this type of video can also be used internally for training purposes – as we said above. You'll most likely find this form in use across:
Pitch decks and presentations to C-suite executives and potential investors
Testimonials by clients and customers
Company introductions to future clients
Product or service demonstrations
Learning and development (L&D) and safety videos for employees (both during the on-boarding process and through up-skilling training within the company), and
Live streaming or reviewing events or conferences.
A video production like this can be adapted to the correct tone of your company's message, whether you're going for more professional (pitch decks and introductions) or more hands-on and personable (testimonials and demonstrations).
However, making the correct decisions is essential to expressing your intended meaning and attracting the interest of your target audience, whether you're appealing to the emotions of future customers or seeking to sure up the latest round of seed funding.
Because video production services are an upfront investment, it's important to nail your strategy down first, or your videos will lack the punch they need to promote a brand, product or service effectively.
Moreover, the variety of skills and foundational expertise needed to create a high-quality corporate video is best achieved through the support of a professional team (like us).
What can a corporate video provide my company/organisation?
Having explored the intended uses for corporate videos, it is key to consider in depth the range of deliverable outcomes in order to ensure the best experience for your business/team's unique specifications.
While intra-corporation videos are generally straightforward in their didactic or explanatory aims, those produced for the external market are considerably more complex in their realm of possibilities.
Read on to hear our top reasons why video could help your company access new clients and markets.
It's extremely effective at reeling in a new client or customer
If you're looking to grab a technologically engaged individual's attention in a limited amount of time, a video would work much faster at getting results than written content.
This is because, as consumers, we have less time than we ever have before, so relaying your biggest brand messages has to be done concisely and rapidly. Fortunately, video production services are exceptional at achieving all of this.
We've seen this through the rise of Tik Tok and across the likes of Facebook and Instagram. Then there's YouTube's position as the second most popular search engine in the world after Google. Even Facebook alone has over 8 billion video views per day.
Not only are individuals more likely to watch your content than they are to read it, but they're also 75% more likely to retain your information. If you're looking to land a new client or customer, this kind of help can make or break your results, especially if they are in a location you can't easily physically get to.
Don't worry if you can't remember all those facts and figures — we know you'd remember 4/5 if this article was a video production.
Establishing brand identity through corporate video production
Not only is capturing your audience's attention important but so is your ability to create brand awareness straight off the bat.
Brand identity refers to the visual and emotional relationship which fosters consumer reactions upon encountering products or services by your company/organisation. In increasingly saturated markets fostered by our globalised digital economy, creating a great brand profile for your consumers is essential to high performance – and your brand may need help in this department to get a leg up.
While traditional marketing techniques are based on the beliefs that consumers are always going to favour established brands over newcomers to the marketplace, new studies have revealed that a professional and coherent brand identity is crucial to the conversion of clients and the establishment of a loyal customer base.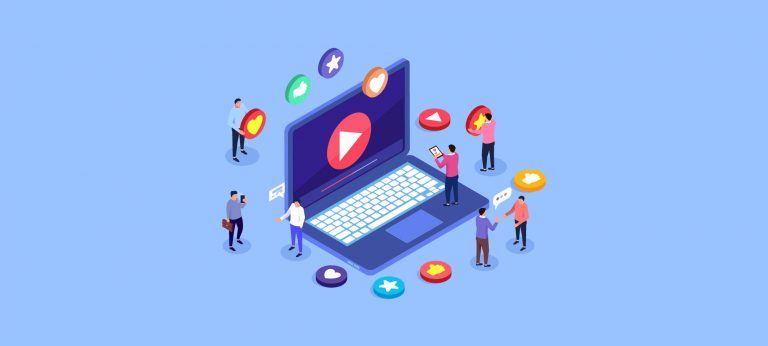 A commonly cited statistic is that it takes less than 10 seconds for a potential customer to develop an opinion of your brand, with repeated exposure leading to increased awareness and establishment of your brand's 'identity'.
The role which video plays in this process is critical, with the unique ability of visuals like this doing so much to engage with a higher density of information in a shorter amount of time than any other form of media. This quality is why video production is the most effective way for any brand/organisation to communicate with their client base.

Developing brand recall: let people know you exist
We've talked about establishing your brand identity, but it's important to make sure your potential and ongoing clients stick around when you've grasped their attention. It's this stage of sustaining brand awareness that is foundational to ongoing support, higher rates of clickthrough and increasing sales.
Video production is an investment, but it's so crucial in creating long-lasting customer loyalty. With its unique ability to establish ongoing and highly saturated engagement within a short period of time, it's the biggest way to generate trust in an uncertain world. And this is key to the generation of sales, in addition to a higher rate of returning customers. People want to know those who they do business with are going to help solve their biggest pain points – video helps you translate this.
It's this professional edge that video production can bring as a marketing strategy, ultimately setting you apart from your competitors.
In the end, this flair provides a polished finish to your brand image, powering you up in more ways than you thought possible.
Video storytelling reels in more clients and customers
The best corporate videos engage with your viewers' emotions. While creating a great call to action might bring in a handful of customers, video production projects that are done strategically can convert clients in droves. When you map this out carefully, you can establish an approach that plays on the emotional engagement of the audience.
From hooking the audience to establishing a well-planned story, a corporate video production can feel personal. Using a human touch – whether happy or sad, centred on your clients or your employees – is always going to be more interesting and engaging for viewers than a tedious slideshow promoting your product.
Meanwhile, A focused narrative that caters to a problem your consumers share (and your good/service fixes) or even relates back to the development of your company's focal mission, are two great places to start when looking for inspiration.
Increased engagement through videos
Naturally, we wouldn't be highlighting corporate video production as a marketing tool for any business if it wasn't the most effective way for you to engage your clients or for training new employees. It's no secret that video content is the most engaging format to influence people, especially with its adaptability across platforms resulting in rapid content dissemination and turnover.
Another key advantage of corporate videos for any business is that they are intended to be shared by design. From Super Bowl ad compilations to the Dumb Ways to Die phenomenon, there are countless examples across the decades of iconic video advertisements which are still recalled with fondness by consumers — but that's not the only kind of content that gets shared these days.
Through YouTube and other social media platforms, the corporate video production market has shifted significantly over the past few years, with an exponential increase in sharing sponsored videos and activated examples of intelligent embedded marketing through DIYs and the like.
Read on to hear about what we think makes a great corporate video in 2021.
What makes an influential corporate video?
We've established that this medium is adaptable and can achieve a whole range of goals through a variety of styles, so the specific perimeters for the genre seem rather grey.
The fact of the matter is that corporate video IS grey as a category because its reach is incredibly expansive and it spans genres from experimental film to the straightforward safety demonstration.
It's this diversity and its requisite expertise which demands the need for professional corporate video production — an essential investment to ensure the highest quality and best possible presentation, regardless of your company/organisation's requirements.
Why invest in professional corporate video production?
Corporate video production is used to describe the entire process of professional video production and creation for your business or organisation, from conceptualisation to dissemination.
A well-produced video can help your brand establish and sustain its identity, convert and attract clients and work as an effective marketing strategy, but a poorly produced video can have a drastically opposing effect.
Read on to hear what we think are the key attributes of great corporate video production.
What should a corporate video include?
Corporate videos can range from those used on social feeds, to animations and product demonstrations. As we've explained previously, this variety of genres and intentions creates a wide-spanning umbrella term that can be used to describe a plethora of content creation.
But every kind of corporate video requires a few fundamental characteristics, of which we've listed below.
It's all about the timing of your videos
In real estate, it's location, location, location; in digital marketing and brand development, it's attention, attention, attention. The ideal marketing video is between 1-3 minutes in length. This duration is long enough to hook your audience in and leave them with an engaging call to action, but not so long that they'll get bored with your video (and your company).
Put calls to action in your videos
Yes, we mean more than one. Having calls to action bracketing the narrative of your videos is critical in order to orient your viewer before they get lost in the storytelling. It's also important to relay your unique selling point – like cheap cost or convenient location – in these instances. It can even be as basic as "Contact us for XYZ" – ultimately, the choice is yours here.
Modern video production needs subtlety
Over the past decade, there's been a deliberate movement in corporate video away from outright promotion towards embedding marketing (think product placement). While this kind of video might seem counter-intuitive to a more traditional marketing approach, a subtle sales pitch often hits harder than a direct jab.
Consumers tend to click out of videos and ignore calls to action if they find the sales message too aggressive, or if they feel like the sole purpose of the marketing content is to sell your product/good. It takes nuance to create a larger impact, which is why having a stronger call to action at the end of your videos is essential with only a brief transitional introduction to your brand at the beginning of your videos.
The lack of outright sales pitching also results in increased consumer engagement through sharing of the video, in addition to heightened consumer trust. The overall result is a stronger brand position through improved brand identity, as well as growing brand awareness.
The art of company storytelling in videos
Storytelling describes the construction of a narrative or presentation of your arguments in a chronological or otherwise organised manner which is accessible to your audience.
Whether you opt to make a cinematic touch for your corporate video or a simple how-to demonstration, your storytelling is used to showcase a clear set of events. It should always have the intention of a certain emotional reaction in the viewer or prospective client.
Approaching your corporate video production process and team with clear and critical goals derived from your desired aims is absolutely essential to the creation of a well-received video production.
By clearly communicating a specific message, you are going to construct a corporate video that engages with associated themes — compassion and support for health care providers or the daily grind and health conscience for snack food companies.
Whatever your goal, there's a way to create a corporate video for your specific outcomes — so long as your desired message is clear from the get-go.
Talk to me
Storytelling doesn't always have to read like a novel. It can be snappy, it can be funny… and it can be curious. These attributes are more like personality characteristics of your company or organisation's culture, which then translate into the tone your corporate video is going to use to speak to target audiences.
Whether you're going for inspiring and uplifting or snappy and informational, the tone used in your corporate video project should complement the kind of goods or services which you are offering to your prospective clients and people throughout your vicinity.
It is important to remember that your tone should be reflective of not only your brand identity but also be appropriate for your intended consumers. If you're speaking to all people or someone specific, remember to speak in a voice that they are going to understand — and want to keep talking to them.
Sharing is caring
The approachability achieved through adapting your company image, visual identity and audio tone to your intended audience is not only limited to the benefits of clickthrough sales and acceptance of the calls to action. This factor also leads to higher rates of your target demographic sharing your videos to their own people on social media — many of whom likely also fit your intended audience.
Ensuring your videos are shared onwards, not just posted on your social media and marketing pages, is the first step to creating the vitality which every corporate marketing video attempts to achieve. We understand that a clear, concise and engaging approach with a clear call to action and explicit bias (if any at all) is the best way to create a high rate of sharing among your followers, and their followers in return.
Sharpen up your company branding to see results
Your content, both in videos and other forms of media, is always going to perform at its best if it is created with a highly professional polish. Making sure that your tone is positive when discussing any goods or products associated with your business, in addition to linking the emotional appeal and narrative back to your offerings is the next level of well-embedded content creation.
A professional display is essential to ensure the attraction of first-time consumers, in addition to further dissemination of your videos and products to potential markets. This approach should not only be held in high esteem in the content creation process, but also in your resultant production value.
All of these reasons contribute to why choosing the best corporate video production company for your organisation/business is essential. From planning to producing to sharing, your video production service should support you from beginning to end. We've got some ideas about what makes a great video production company below.
Make your corporate videos stand out
We've already gone through the basics of corporate video services and what should be provided to you (or created by you) in the process of production. But in our highly competitive, online world, video marketing is no longer a radically new tool. Making a stand-out video now requires excellent content and a high value of production… so what exactly does that mean? Read our top tips below.
So many emotions
We've already shared with you that creating a story in your videos and using traditional narrative techniques work for all varieties of corporate productions, from promotional videos to advertising campaigns. But it's not enough to simply produce a project for your viewers to passively watch because they'll click out and not through.
The whole point of storytelling in corporate videos – and as an overall technique – is to use an emotional connection with your audience, developing engagement through shared laughs or problems. This humanises your company, whether big or small, and generates a greater sense of empathy with your business's story.
Not only does this result in even further brand loyalty and clickthrough — two key results of video production or any kind, we explored above — but also greater shareability through its intelligent use of embedded marketing with emotion, not sales, becoming the clients' perceptual focus.
Audio and visual
This is the kicker about corporate video production — it's not just audio and it's not just visual; it's audiovisual. While human memory output from both of those inputs individually is relatively low, it's been scientifically established that audiovisual stimuli (such as video) result in the highest level of information recall of any sensory experiences.
The combined impact of sound and image is extremely powerful and should not be underestimated by any growing brand or business. The harmony between these two elements achieved by a high level of production creates a phenomenal customer experience of every video… which they can assume will follow through to their experience with your company as well.
What's in it for me?
It might seem obvious, but individuals are only going to continue watching corporate videos (or engaging with anything in general) if they know that they are, or will be, impacted in some positive way. It's for these reasons that we highlighted the importance of emotional engagement, but another way to speak to your target audience is to provide them with the information they desire or need.
Whether you're offering to solve a problem they have or delivering them a necessary service, customers need to understand not only what your company and your product can do for them, but what the videos they're watching are doing for them too. And sometimes, you need a video production company that can tick all of those boxes.
It's time to invest in corporate video production
Choosing a quality video production company is tricky; we understand. However, hopefully, this guide to corporate video has given you some insight into making the right decision for your needs.
We've converted you — or maybe just confirmed things you already knew, with a little extra added in. Video is an extremely potent source of information that can have a wide variety of incredible impacts on individual consumers, in addition to radically changing perceptions of organisations and businesses.
If you're looking to create corporate videos through a reputable video production company, contact us for video production in Brisbane.
Psst: Did you know we can also help you power up your Brisbane social media strategy?